Etegami is an art form I first heard about when I came across the talent
of Debbie Davidson, or dosankodebbie, as she is very well known.
In Japanese, "e" means picture; "tegami" means letter.
I was delighted to interview her and find out more
about these lovely "picture letters" known as etegami!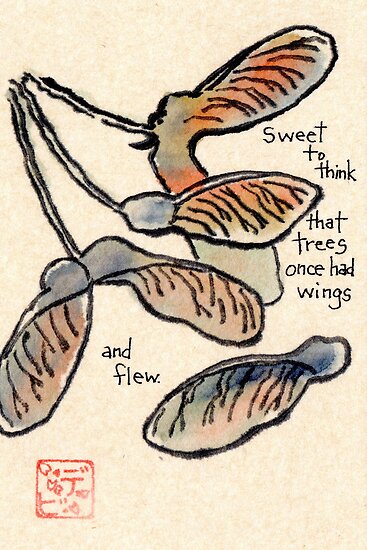 First of all, Debbie, please tell us something about yourself.
I was born in Japan of American parents and have lived here - mostly on the northernmost island of Hokkaido - basically all of my life. The "dosanko" in my art name means "a native of Hokkaido".
My early education was a mishmash of homeschool and international school. I went to college in the United States, married a guy I met there, and brought him back to Japan with me. We've lived here ever since, changed careers a couple times, raised up two kids, and plan to bury our bones here. After working as a professional translator for 30 years, I left that exciting-but-stressful career to pursue my other passion, which is etegami.
Frog Eggs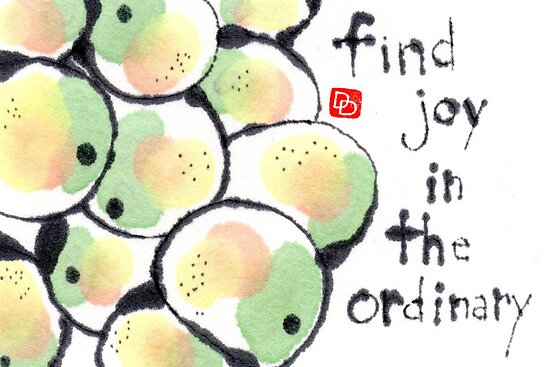 Explain the art of etegami.
Etegami is a Japanese folk art that has almost no rules, and it values "clumsiness" over the refined perfection of the classical Japanese arts. It is a combination of simple hand-painted images with a few thoughtful words. It is usually done on postcards because etegami is fundamentally a mail art and is meant to be sent to someone in the mail.
Here are some of Debbie's etegami inspired by Scripture.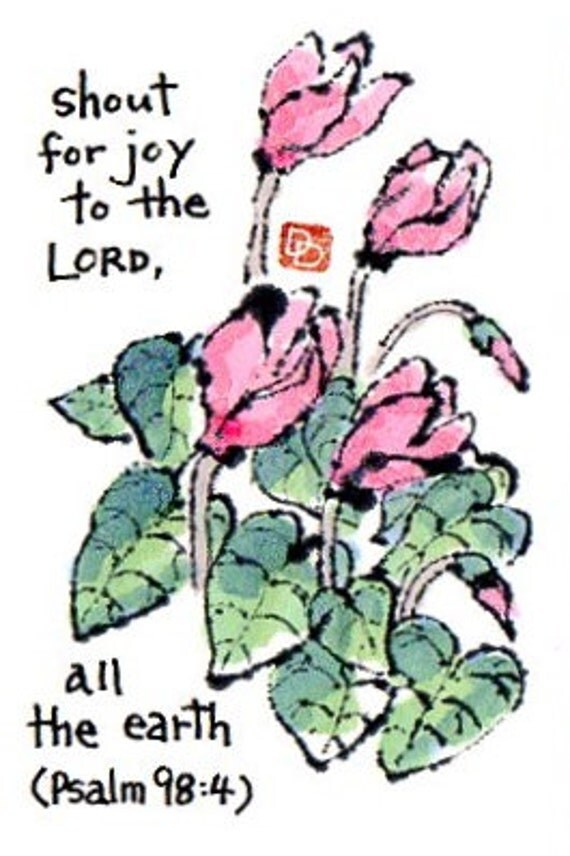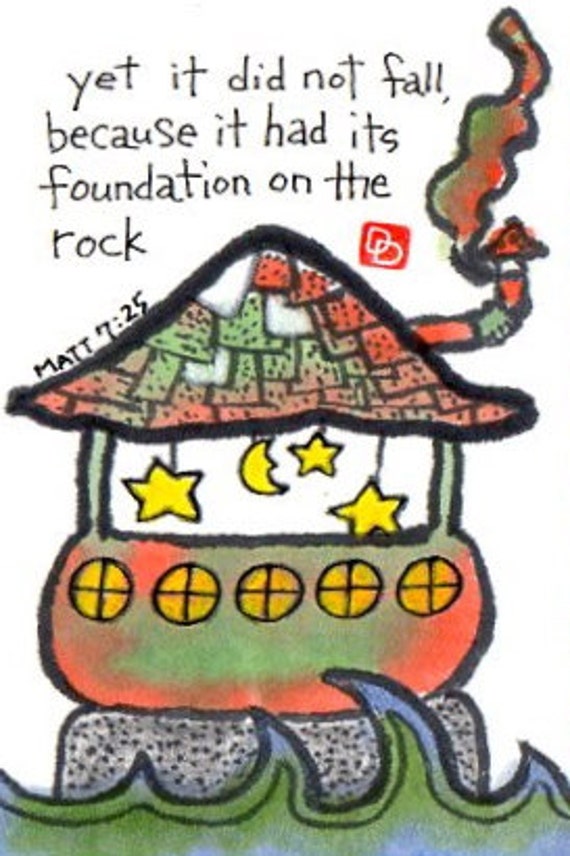 Are there guidelines to keep in mind when creating traditional etegami?
Traditional etegami is at its best when the image is a single item drawn large and boldly, even to the point of jumping beyond one or more of the edges of the card, and also when the accompanying words are bold and square-ish, like the writing of a child, rather than being overly-controlled or self-consciously artistic.
Here are examples of her etegami inspired by literature,
with Herman Melville's "Moby Dick", and William Shakespeare's "King Lear".
I'd like to hear more about this clumsiness, and how it coincides with traditional Japanese culture.
The "clumsiness" concept both coincides and conflicts with traditional Japanese culture. The founder and popularizer of the modern etegami movement, Kunio Koike, started out as a student of calligraphy who rebelled against the perfectionism and "follow-the-master's-example" way of instruction. He created the motto "Clumsy is fine. Clumsy is preferred", to express the idea that anyone can do etegami. You don't need artistic talent or training - you just need "heart".
Japanese people tend to avoid spontaneity lest they make fools of themselves. They feel safer following the many rules that define most traditional Japanese arts and crafts. At the same time, some aspects of Japanese culture (particularly that which developed out of the Zen tradition) find beauty and truth in that which is less-than-perfect or less-than-complete. Koike's vision for etegami fits well with this particular part of Japanese tradition.
"Bursting Chestnut" with a quote from Pablo Neruda's poem
"Ode to a Chestnut on the Ground".
The poetry of Robert Frost.
What type of materials do you use, and why?
The traditional materials are sumi ink (for image outline) and gansai water-soluble paints (for coloring the inside of the outlines) applied with brushes on absorbent washi paper - almost always postcards. Traditional tools and washi cards with a high "bleed" rating are best for achieving the state of non-control that results in the shaky, blotchy lines we call "living lines".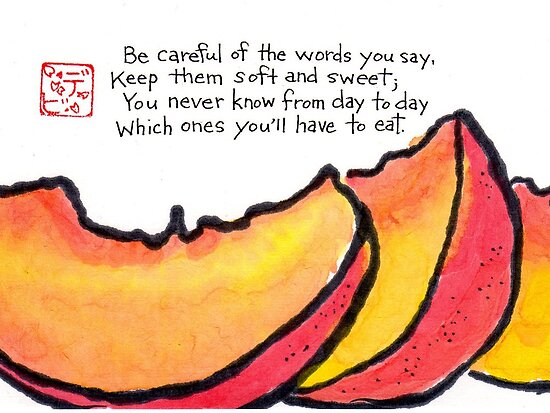 Debbie publishes a free etegami newsletter each month that goes into
detail
about
the history, tools, methods, and worldview of etegami.
Images used with direct permission from Debbie Davidson.