via newstrick
Kate, the Duchess of Cambridge, now expecting the royal heir, gets a lot of attention from the media. As was the case with Princess Diana, her fashion choices and how she carries them off are always of interest, not only in England, but "on this side of the pond" as well. For that matter, all over the globe.
I say - let's give some attention to the Queen! I love how elegant and, ...well...queenly she always looks. Her hats are fantastic, her brooches are fabulous and her triple strand of pearls is classic perfection!

Not to mention the colors!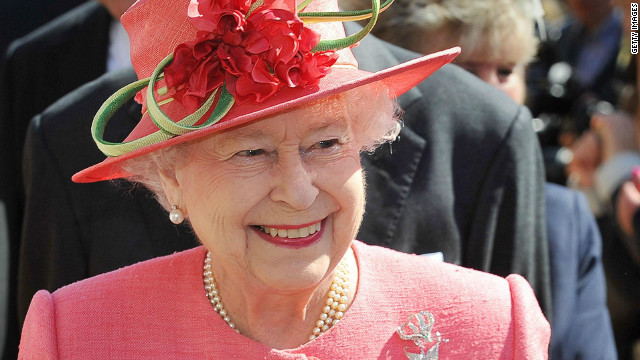 via cnn.com
via starpulse
We mustn't let 2012 slide by without a curtsy to acknowledge Elizabeth's Diamond Jubilee. Throughout her 60 years as Britain's monarch, she has enjoyed wearing exquisite fashion. In a Vogue chart called "Rainbow Queen", her wardrobe was cataloged through the course of one year, with a goal of determining the frequency of colors she wore. It's intriguing to look not only at the lovely colors, but also at the style for which she has become known.
Don't you love stuff like this?
via whodesignedit.net
And finally, in limited edition for the Jubilee, Pantone Color joined with Ad Agency Leo Burnett London to create a queen-shaped color deck. It represents the colors from 60 years of her most memorable outfits, perfectly color-matched to official Pantone shades. Each of the 60 cards notes the color name (primrose yellow or pristine blue, to mention just two). Also cited is the year and occasion for which each was worn.
Congratulations, Your Majesty!