A few years ago, I received an antique cameo as a gift, and my interest was piqued.
Cameos are works of art unto themselves.
They're intricate miniature sculptures, dating back to the Victorian ages.
Now, THIS is craftsmanship! The detail is amazing.
The beauty of a hand-carved cameo is unsurpassed.
Cameos are usually a portrait of a Roman or Greek god or goddess, royalty, or a Biblical figure.
Famous paintings have also been reproduced onto a cameo.
Coral, ivory, shell, and turquoise are among the many materials used for carving.
Shell is the least expensive and therefore the most popular.
On certain shell cameos, you can detect as many as 7 different shades,
according to the number of layers in the shell.
The first photo below illustrates this.
Enjoy the rich beauty of these cameos.
My favorite is the woman with the veil. Gorgeous.
Shell
Antiquingonline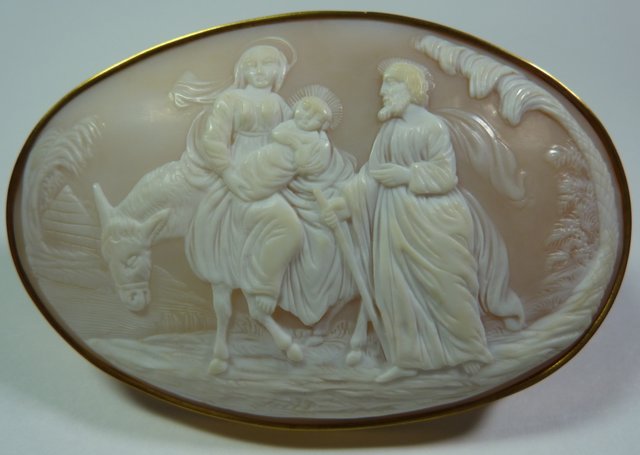 Flight into Egypt - RubyLane
Three Graces - antiquejewelrymall
Sardonyx - antiquecameos.net
Mother-of-Pearl
Antiquesnavigator
waterrosez.blogspot.com
Coral
via papercitymag
via faycullen.com
via antiquesnavigator
Bloodstone, Amethyst, Tortoise Shell, Turquoise.
Jesus Christ in bloodstone via portraitcameos.com
Amethyst via romanovrussia.com
Turquoise Athena - eragem
via jewelryexpert.com
Medusa via antiquecameos.net
Here's Guido Renin's painting
"St. Michael the Archangel Slaying the Devil"
and a cameo of the same:
loopholesonlife
antiquecameos
View my post about a modern artistic interpretation
Here's a hint: O-R-E-O!